| | |
Flower shop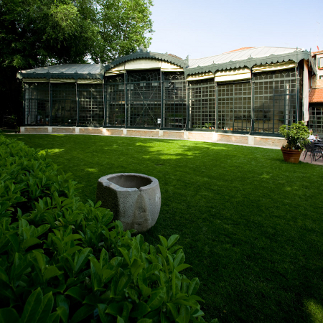 The co-operative Nonsoloverde sells potted plants in the splendid setting of the Greenhouse. Wishing to manage the spaces at best, aiming to a multifunctional use of the historic building which includes, inter alia, the use of the Greenhouse spaces as tea room and reading room, the co-operative chose to set up the spaces with different plants for each period of the year. The main concept is to create not a permanent collection of plant essences but rather a continuous flux of plants of different origin, form and colour so that the Greenhouse becomes a space in constant change, capable of stimulating the curiosity of citizens, making them active participants of a space in constant evolution, rich in formative, cultural and sensorial stimuli.

The sale of potted plants supports financially the co-operative's welfare activity as well as the various activities carried out at the Greenhouse and aimed at involving the citizens: environmental information course for schools and courses for adults, educational workshops for children and teenagers, exhibitions among the greenery, birthday and theme parties among educational courses, flowers and plants, music and traditions.

The choice of plants for exhibition and for sale is influenced by the following elements:

Environmental sustainability: all the plants purchased and transported by the co-operative to the Greenhouse travel short distances and create zero food miles as they come mainly from greenhouses located in the Provinces of Venice, Padua and Treviso.

Social sustainability: most of the plants on sale are produced by social co-operatives operating in the Veneto Region; like Nonosoloverde Soc. Coop. ONLUS, these co-operatives aim at the placement in the work environment of people at a disadvantage.

Quality: all the plants are produced directly in the garden centres they come from, have sustained few transfers and are therefore in good health and of the highest quality.